Santa Cruz Table Tennis Club
The Santa Cruz Table Tennis Club (SCTTC) is a fun, friendly and loosely organized club. We're very proud to be the oldest continuously operating table tennis club in the California Bay Area. Check calendar below to confirm club is open.
We welcome players of all skill levels and ages. If you don't have your own paddle and ball, we can supply them. Table tennis is a great way to have fun after a day of work. Enjoy playing and/or improve your game. Entry fee to play is only $5. Table tennis coaching available (for separate fee) from certified instructors (for more information contact Jim Langley at 831 713-7702).
September

2023

Sun
Mon
Tue
Wed
Thu
Fri
Sat
About the club
We are a fun, friendly and loosely organized club. We're very proud to be the oldest continuously operating table tennis club in the California Bay Area. Contact us below or by texting/calling Jim Langley at 831-713-7702. Check out latest news.
Playing & visiting to watch
We play in the lower level of the CPDES Portuguese Hall in Santa Cruz, California. We have seven playing courts. The floor is concrete, the ceiling is eight feet high and the lighting while even is not overly bright on most courts.
Outside the courts there are plenty of chairs and tables to sit and watch the games or hang out. The hall has free WiFi. The cost is $5 but it's free to come watch and everyone is welcome. It's fine to bring refreshments.
Equipment
We have seven beautiful, professional level Butterfly tables each in its own area surrounded by barriers. Two are signed by four-time World Champion Li Zhenshi and Stefan Feth, former teammate of Timo Boll on the German National Team. For special matches we have scorer tables, cards and referees.
Most players who frequent the club have their own paddles that they bring and prefer to play matches with tournament-approved table tennis balls, which they also bring. New players or those needing to borrow equipment can use the club's "loaner" paddles and balls. These get lots of use and change in quality and condition over time. We can provide tips on buying your own paddle.
About ping pong balls: If you want to purchase your own balls to bring to the club to play with, you want to buy balls that others will want to play with. The best choice is the Nittaku 3-Star Premium 40+ Balls. These are the same pro quality balls that are used in tournaments around the world. If you buy them and bring them to the club be sure to mark the balls in some inconspicuous way so that you can identify them as yours. Check out the Other page for more equipment and helpful video links.
Skill level
Our players range from enthusiastic unrated recreational folks to a core group rating level 1000-1300, another bunch 1400-1800 and a few semi-pros at the 2000 level. Our highest rated players currently are Steven Alfred and Charlie Arbersold, ratings approximately 2300 and 2200 respectively. They are top tournament players with many impressive wins to their credit.
It's fine to challenge anyone you would like to, regardless of your playing level, so don't be shy. Most players are happy to give you playing advice and tips if you ask.
History
The club was founded in September, 1992 by J.P. Monnerey, Richard Williams (always known as "Willie"), Stephen Pollard and Jim Langley. J.P. left the area relatively early in the club's life. The club officers became Willie, president, Jim, vice president and Stephen Pollard served as our secretary and webmaster.
Many years have passed and thousands have played at the club including traveling professionals and representatives of table tennis manufacturer Nittaku in Japan. Over those years, both Willie and Stephen died. They will always live on in all they did for the club. Today, Jim is president, Debbie vice-president and Ray is our webmaster.
From day one, we wanted our club to be a place for all players, beginners to experts. We never wanted to be an "elite" club that can give the feeling that you're not good enough or unwelcome. Thanks to our many loyal players, we have an awesome club and in many ways one of the best you'll play at. We hope to see you at the club!
Club Rules
The tables have numbers on them from 1 to 7. The number 1 table is to the far right as you walk in the door. Number 5 is closest to the door to the far left. Number 7 is the only horizontally placed table and the one at the back and middle. Tables 5 and 6 are usually reserved for coaching 5-8pm. If no coaching is taking place, the tables are open for play until/if coaching begins.
How our "challenge system" works
Anyone can challenge on any table in the club where matches are being played. "Challenge" just means telling the players on the table that you want to play next. If people are waiting ahead of you, you become next in line. Some of the tables have little racks near the floor for putting your paddle as a way to keep your place in line. First paddle is first challenger, second is next and so on.
If someone challenges the table two players are practicing on, then the two players need to start playing a match within a few minutes. Be considerate to each other. If you need to warm up a little longer, that's fine, but keep it short. Challengers are free to remind players warm ups shouldn't run on too long. In professional table tennis competition, the official warm-up time is two minutes. We try to keep warm-ups to 5 minutes.
If doubles are being played, find a partner and challenge to play doubles or wait until the match is over and see if people want to play singles on that table.
Be sure to read this section
There is a special rule on table 1. If a person keeps winning they can stay up and keep playing on that table as long as they want. It doesn't matter how many people are challenging the table. Table 1 is where our best players usually play so we call it a "winner's table," i.e. the winner stands if they want.
All the rest of the tables, 2 through 7 follow a different and important club rule – the "two match wins" rule. Please understand, remember and follow this rule. When there are players waiting to play and those waiting players have said that they are challenging tables, the rule is that players currently playing on that table may stay up on the tables for two consecutive match wins. After that player has won 2 matches, they must leave the table and the loser of that second match must leave the table too. That means that 2 players that are challenging get to play on the table, while the 2 people who were just playing leave the table. It's fine to re-challenge the table or challenge another table.
If no one who is waiting to play is challenging a table, it's fine to ignore this rule. But if people are challenging, then players must follow the rule. Challengers should remind players that they can only win two matches and then must surrender the table to the "next 2 players." This allows more people play and no one has to wait too long. Many clubs follow this exact rule and it works well in a small clubs. This rule is an equalizer when there are experts and beginners trying to get on tables. Do not play on one table and challenge on another table UNLESS there is no one waiting in line for the 2 tables affected.
The "challenge system" and the club's 7 tables help make it so you don't wait too long to get on a table — even if you get to the club when coaching is taking place. Be sure to ask the players on a table the status of their match and how many people are challenging. Try to ask in between points, never during a rally.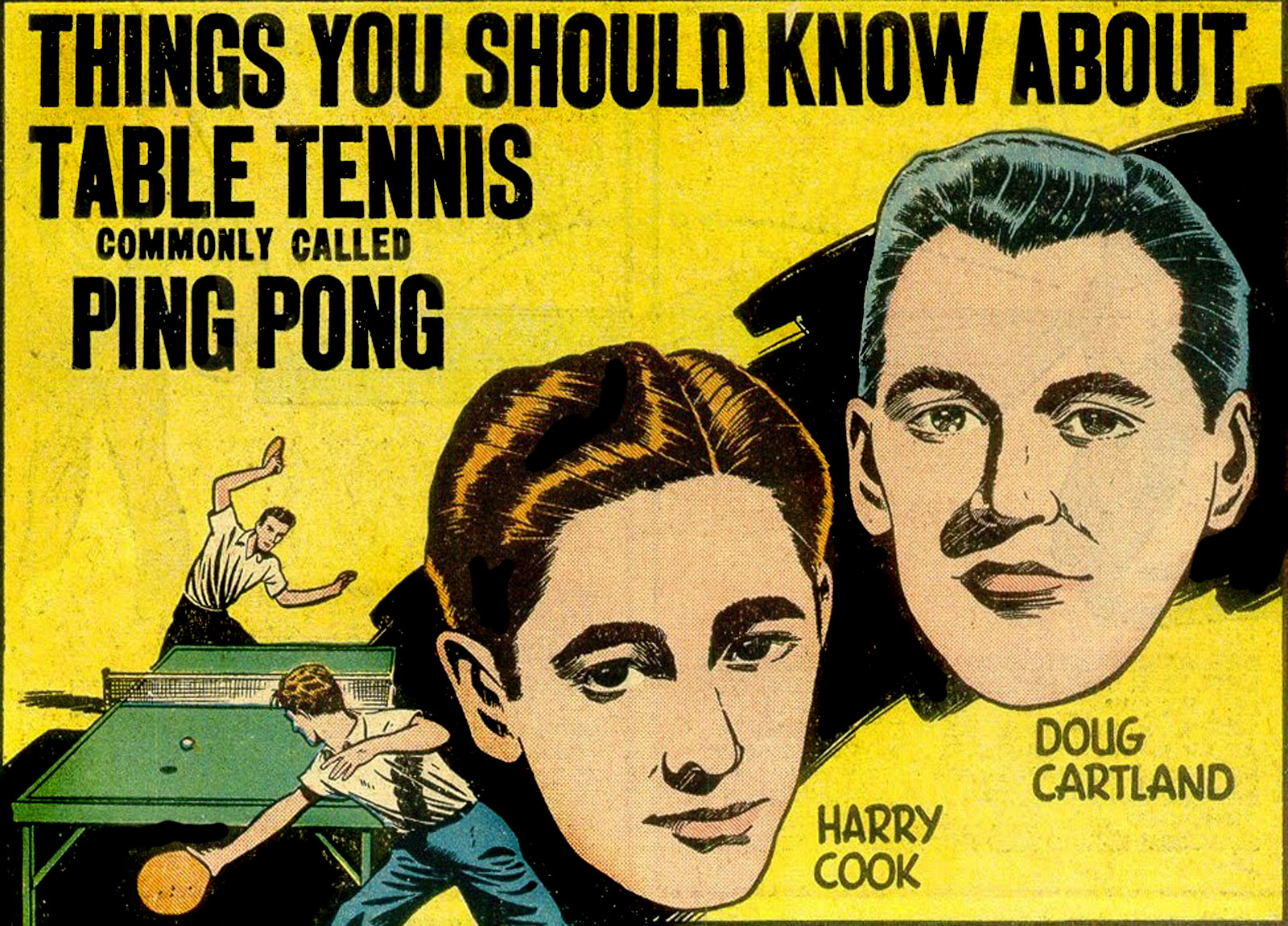 Basic Rules of Table Tennis
Scoring and Games
Games are played to 11 points
Players serve two serves each, alternating. A player does not have to win specifically off their own serve in order to win a point
If a game ties at 10-10, a player must win by 2 points. In this situation, players serve one serve each, alternating
In competition, games are played best of 5 (first to win 3 games) or best of 7 (first to win 4 games). Social games can also be played best of 3 (first to win 2 games)
Legal Serving
You must throw the ball up straight, from a flat palm, at least 6 inches (16cm)
Your toss and service contact must be behind the table surface (not over)
You cannot hide the ball from the ball toss to contact, with any part of your body
If the ball hits the net during service, it is a let, the point is replayed. There is no limit or point deductions for let serves.
Equipment Basics
A table tennis racket must be one side black, one side (recently approved) any approved color
The official approved ball is the 40mm+ plastic ball
The dimensions of an approved table tennis table are: 9ft long, 5ft wide, 2.5ft high
The approved height of a table tennis net is: 6 inches
Official Rules of Table Tennis – USA and International
Source: TeamUSA
Location
Santa Cruz Portuguese Hall
216 Evergreen St, Santa Cruz, CA
​

Photos and Videos
Use #santacruztabletennisclub on Instagram
Note: If the videos are slow to load, click the Pause button and then let the video mostly load before hitting Play .
* We are located in Santa Cruz, USA, NOT Spain.