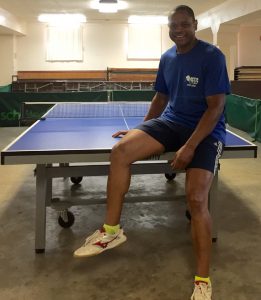 Players, next time you come to the club, be sure to congratulate Steven Alfred who last week won the Over 40 years-of-age tournament in Fremont taking out the amazing Avi Schmidt in the process 12-10 in the fifth in the semis and then double-winged power looper Kevin Au in the final. This earned Steven $200 for first place and a new rating of 2307, the highest rating of any regular player at our club going back to our founding in 1991. Wow.
With Mickey Boyle's Nationals Title last year and Charlie Aebersold's highest rating of 2152, our little old club just keeps getting better and better! In case you aren't familiar with USA Table Tennis ratings, the lowest is 0 points and the highest rated players in the country are about 2700 to 2800. Coach Jim reached a highest rating of 1825. Mickey is closing in on that. Most USA players dream of breaking the 2000 barrier, but it takes a lot of practice and focus and playing tournaments (you win and lose points based on wins and losses in tournaments).
Here's a short report from the Alameda tournament, "Over 40 – On the opposite side of the age bracket events, we gave the adults a respite from the juniors in Over 40. Despite a few Warriors-inspired defaults (oops, sorry, they were all just tired after the morning events) the die-hard players who stuck around created plenty of their own entertainment. Steven Alfred, who came all the way up from Santa Cruz TTC for the tournament, played the longest match of the day against former Alameda coach Avishy Schmidt in the semifinals. Really, people were wondering just how many matches they were playing, but in the end they assured us that they only played one, with Alfred ultimately emerging as the winner, winning 12-10 in the fifth set. The other semifinal was much quicker, with Topspin's Kevin Au overcoming Alameda's Kock Loe in three close sets. Ultimately, Alfred's patience was richly rewarding, as he beat Kevin in the final to claim the $200 prize. Kevin's $100 check consoled him as well and we still got them home in time to catch the last half of the Warriors game."
Way to go Steven! Thanks for bringing home the gold for the club!